About Us
Heart Change Ministries opened its doors in February 2006. Our goal was to come alongside women in crisis pregnancies to encourage them in their spiritual walk and impending motherhood. Our desire was to disciple these new and/or future believers just as someone had done for each of us in our early walks. Concern for the quality of life for the child to come was as important to us as desire to see these women grow in their faith and discover the woman God created them to be.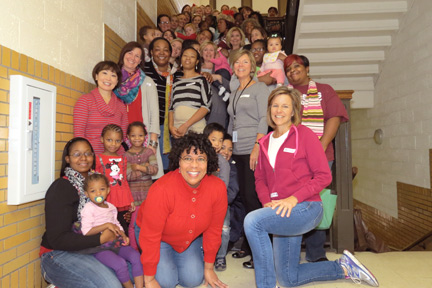 The first morning we opened our doors, a young 20 year-old pregnant mother with three small children came. We had the privilege of serving her and her four children for more than a year. Although we no longer get to see them, we were able to love those little girls and tell them of God's love for them. For that year at least, they knew that there were those who loved them in a place where they felt safe.
The fourth week a young woman who was 17 weeks pregnant came in the door. She was scared, alone, sleeping on her Grandma's couch, and she needed something! She didn't come back for four weeks. The next time she came, she met Jesus and received Him as her saviour. Her family and friends taunted her. She had moved on from her grandma's couch to her uncle's couch. They didn't believe she had changed. They didn't believe that she was done with drugs and the other elements of her former lifestyle. But, she was! She became the proud mother of a little boy, living in her own apartment and working full time today in the restaurant industry.
Upcoming Events

Events on June 28, 2017

Indianapolis Zoo Great fun!

9:15 am - 12:45 pm Description:

Please be there by 9:15 am sharp! We need to go in together to get a discounted price. Late arrivals are charged full price! So please help us by arriving on time. See the animals. Bring your sunscreen. Includes free lunch. (Remember that each vehicle will be charged a parking fee unless you are in a marked bus or have a parking voucher.) NO AFTERNOON PROGRAMS TODAY!

More details...

Heart Change Ministries, Inc.

4201 E 16th ST (Office)
Indianapolis, IN 46201-1640
(317) 496-0916

© 2016 Heart Change Ministries, Inc. is a tax-exempt 501(c)3 charitable organization. Donations are tax-deductible consistent with IRC Section 170.