Who We Serve
Women with or without children who have expressed a desire to have their lives transformed by God's love and truth.
Some are women who are homeless or currently living in an unstable, unsafe environment. These are women who WANT to live life differently and are ready to commit to do whatever is necessary to get there, but require someone to show them the way, even to help them.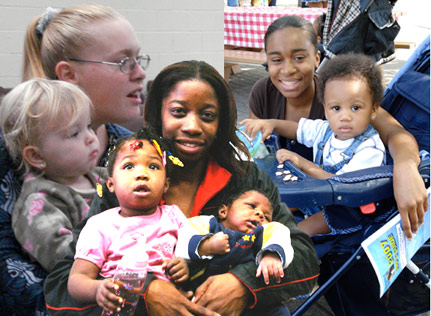 Although each woman and her story is unique, the "typical" demographic profile of the woman we are serving is:
Twenty three years old
Unmarried with children
Little to no contact with biological father
While growing up her own mother has struggled and been unstable, possibly incarcerated and intermittently absent
Likely raised by a relative or in foster care for some of childhood years
Relationships with the fathers, boyfriends, friends, family, are unstable
Doesn't have a High School diploma, or a job
Spends days hanging out with other friends who have children, going to social services acquiring food, job information, clothing, etc
Everyone around her is living the same life
Wants to change her life but doesn't know how to make that happen.
Usually exposed to church as a child, but has spent little to no time reading the Bible
Skilled in survival
Pain just below the surface, may show little emotion, appears to be tough, but extremely vulnerable
Heart Change Ministries, Inc.

4201 E 16th ST (Office)
Indianapolis, IN 46201-1640
(317) 496-0916

© 2016 Heart Change Ministries, Inc. is a tax-exempt 501(c)3 charitable organization. Donations are tax-deductible consistent with IRC Section 170.